 On behalf of the Board of Directors of the Paramount Theater I want to express our concern for your personal safety and well being. As we plan for performances in the coming weeks, the safety of you, our staff and volunteers is our primary focus. I am certain that most of you are aware that the Delta variant of the Covid virus is increasing in our area. For that reason and our desire to keep everyone safe, all staff and volunteers will be required to wear masks while performing their duties in the theater until further notice. While vaccination is not a requirement we urge all staff and volunteers to be fully vaccinated before entering the theater. 
At this time, patrons are not required to wear masks or produce proof of vaccination. By attending any event at Paramount Bristol, you acknowledge that you accept sole responsibility for the risks that come from being at an indoor venue.
It should go without saying that if you do not feel well, if you are running a fever or exhibiting any symptoms please stay home! It is everyone's responsibility to see that this virus is kept under control. Please do your part.
We will continue to update this policy as we move forward.
Warm Regards,
Ed Balaban, President of the Paramount Foundation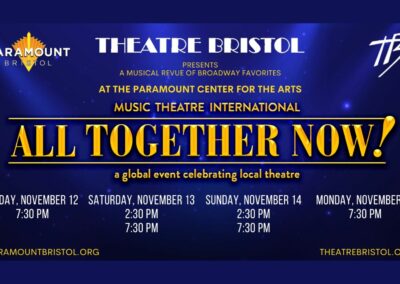 All Together Now
Theatre Bristol and the Paramount Center for the Arts celebrate local talent performing a fantastic selection of songs in a brand new musical revue from shows including Disney's Frozen, Les Misérables, Into the Woods, Matilda, Hairspray, Disney's Beauty and the Beast, Fiddler on the Roof, Once on This Island, Little Shop of Horrors, Rent, My Fair Lady, Godspell, Waitress, Annie, Charlie and the Chocolate Factory, Mamma Mia! and many more! Funds from this event support Theatre Bristol and the Paramount Center for the Arts.
Fri, November 12, 2021
Sat, November 13, 2021
Sat, November 13, 2021
Sun, November 14, 2021
Sun, November 14, 2021
Mon, November 15, 2021
Support Paramount Bristol
The Paramount Foundation relies on corporate sponsors and contributing members to keep our beautiful historic showplace lit up all year round with the high standard of live entertainment you have come to expect.
Get involved and stay informed by learning more about membership, the Producers Guild, Sponsorships, Volunteers, License Plate Program and more.
Sign up for our e-news for show alerts, special announcements and more!