Why Support Paramount Bristol?
As a non-profit organization, The Paramount Foundation relies on corporate sponsors and contributing members to keep our beautiful historic showplace lit up all year round with the high standard of live entertainment you have come to expect.
Your tax-deductible* gift earns you the benefits and privileges of a Paramount Bristol membership and helps preserve this precious heritage for generations to come.
If you agree that The Paramount makes Bristol and our region a great place to live, then please give generously so we can keep it as the shining star of downtown Bristol.
It's your Paramount Bristol!
* The Paramount Foundation, Inc. is a not-for-profit organization, and your contribution is tax-deductible to the extent allowable under section 501(c)(3) of the Internal Revenue Code.
Become a Member
Your donation sustains the "Crown Jewel" of downtown Bristol and has benefits like early access ticketing, discounts and more. Historic theaters are proven community revitalizers and economic drivers.

Become a Sponsor
Become a Season Sponsor and along with the stewardship of enriching our community, enjoy branding benefits, complimentary tickets, and the ability to thank employees and clients.
Become a Volunteer
Become part of a long-standing tradition and help bring Paramount Bristol to life for our patrons. From greeters to ushers to concessions and more, we need your skills and talents.
Special License Plate Program
Tennesseans for the Arts Specialty License Plate Program
Paramount Bristol is supported in part by Tennesseans for the Arts. Funding is generated through the sale of specialty license plates. Why don't you consider getting an arts plate for your ride and support the arts in Tennessee? Please visit the Tennessee Arts Commission license site to see the available plates.
Most of these plates are available at your local county clerk's office. However, you may want to call and check before traveling to the clerk's office. A Specialty License Plate costs $35 each year. You can exchange your current license plate for a Specialty License Plate anytime, the county clerk will prorate your fees. Thank you for supporting the arts in your community!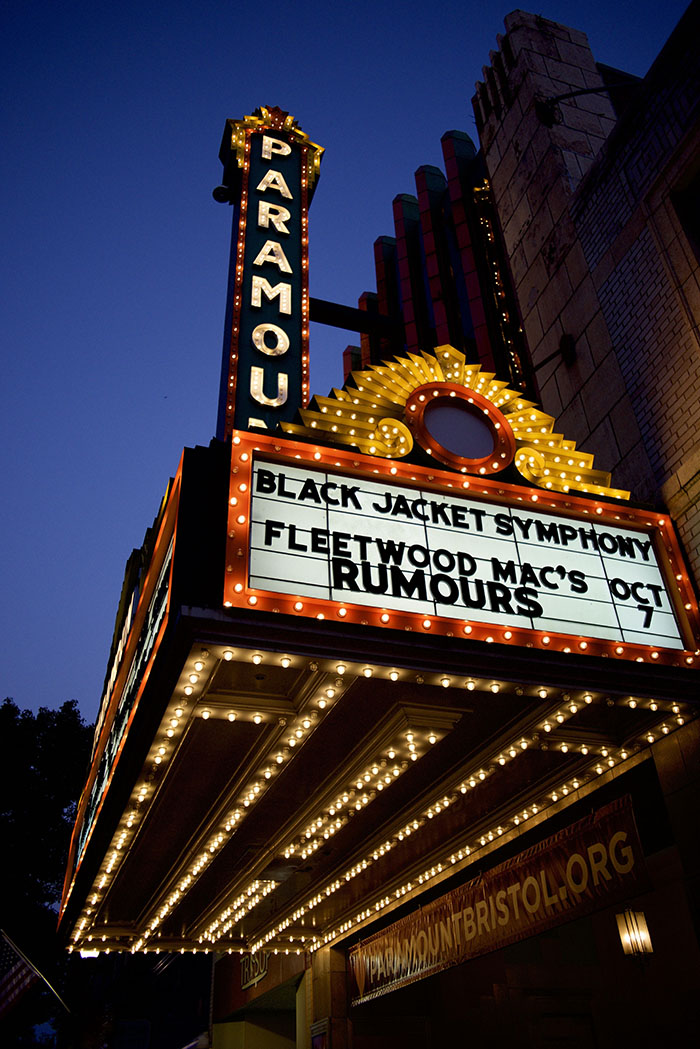 Planned Giving
Make The Paramount part of your Legacy
Did you know it is possible to support The Paramount through your will or IRA?
Please help us sustain the work that we do by planning a gift for The Paramount. Your generosity will enable audiences to enjoy shows at The Paramount well into the future, enhancing the economic and cultural life of Bristol. If you choose to include The Paramount in your estate plans, please let us know so we can thank you personally for making such a vital and important commitment to The Paramount.
Making The Paramount a beneficiary of your retirement plan is both tax efficient and as easy as changing the beneficiary form with yourIRAadministrator and designating The Paramount as a primary, contingent or partial beneficiary.
Alternatively, you can make a bequest through your will, codicil or trust. Here is an example: I, [insert your name], bequeath the sum of [insert monetary sum or percentage of my residuary estate] to The Paramount Foundation, 518 State Street, Bristol, TN 37620, Tax ID # 58-1837080
Thank you for considering a gift to support The Paramount's future!
If you would like to donate to the Paramount Foundation, please do so by clicking here: