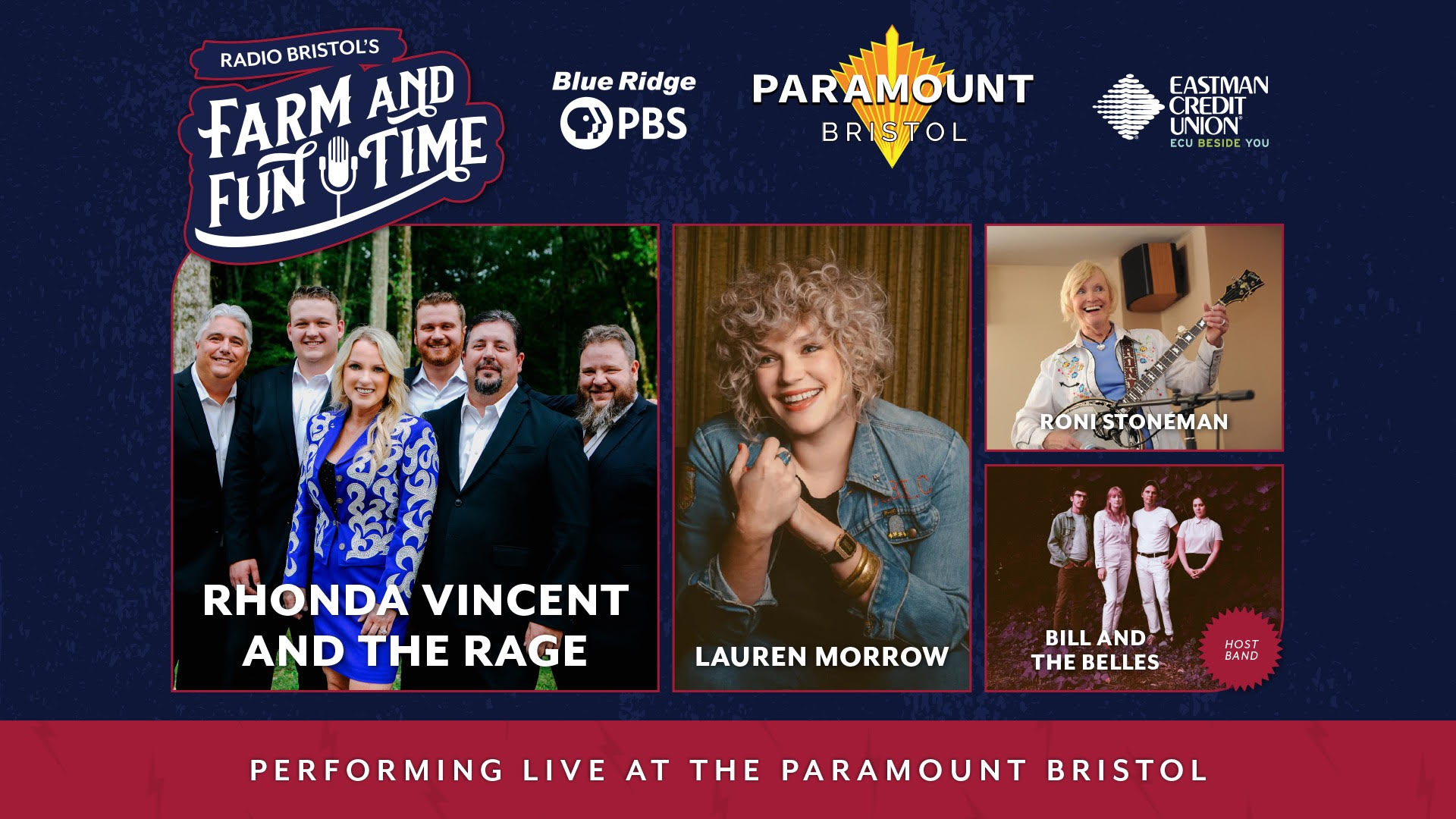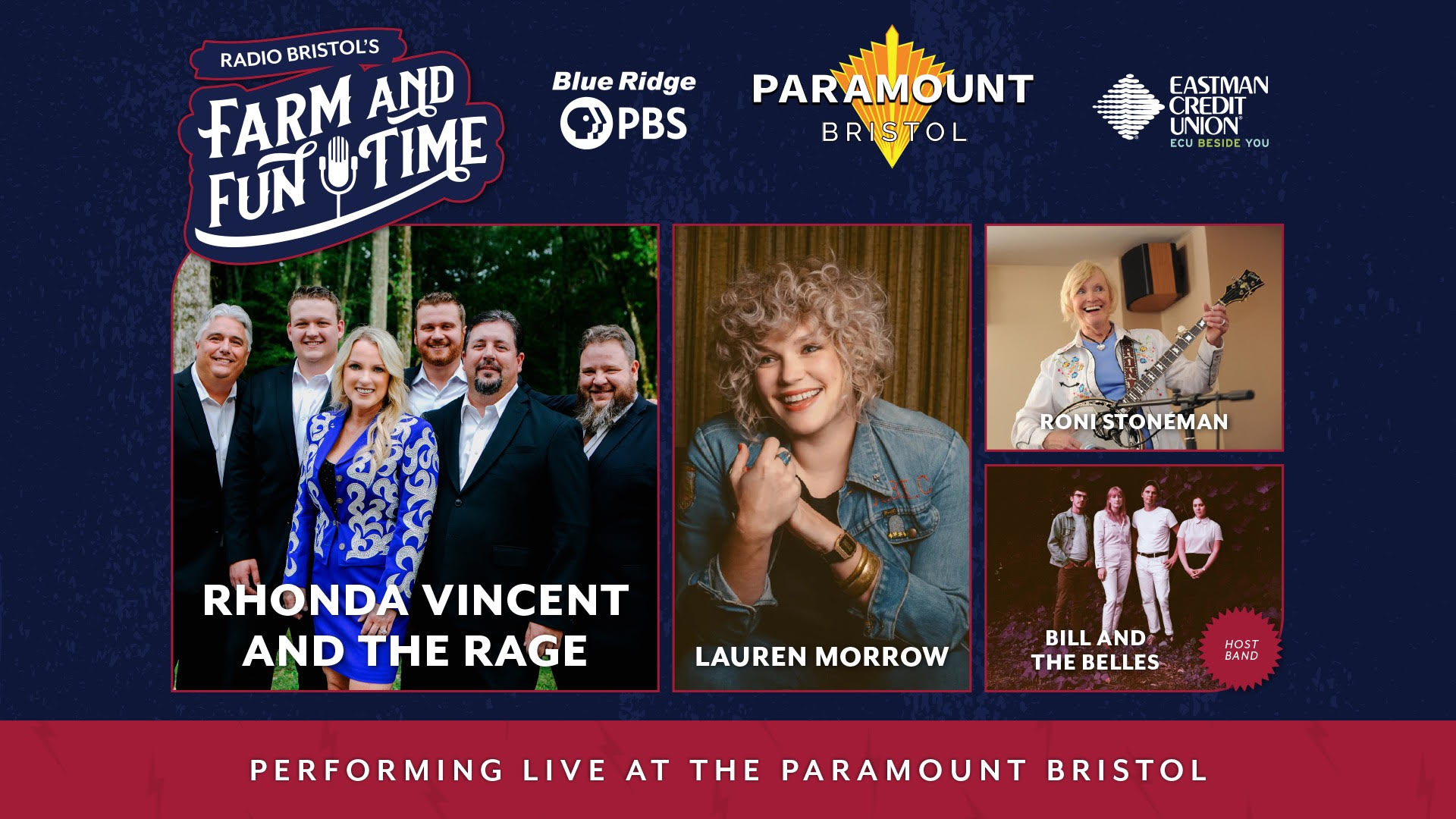 Farm & Fun Time featuring Rhonda Vincent
Doors: 6:00 pm / Show: 7:00 pm
$45.99 - $83.00 (prices include all applicable fees and taxes) / Members save at least $5
The Birthplace of Country Music is proud to present a special live taping of Radio Bristol's Farm and Fun Time on the Paramount Bristol stage. This month's broadcast celebrates the 95th anniversary of the legendary 1927 Bristol Sessions with special guests Rhonda Vincent and the Rage, Lauren Morrow, Roni Stoneman, and house band Bill and The Belles.
As a Grammy Award winner and lifetime member of the Grand Ole Opry, the Queen of Bluegrass Rhonda Vincent is one of the most decorated artists in bluegrass. With an unprecedented seven consecutive Female Vocalist of the Year Awards from the International Bluegrass Music Association, Rhonda's vocal style transcends the boundaries of bluegrass music.
After over a decade as the centerpiece of popular Americana band The Whiskey Gentry, Lauren Morrow packed her bags and moved to Nashville to pursue a career as a solo artist and grow her craft as a songwriter and performer. Within month's, the Bristol Rhythm and Roots Reunion favorite, released her first solo EP to widespread critical acclaim and landed on many "Best of the Year" lists from Rolling Stone to Garden & Gun. Whether she's singing an alternative/indie rock banger, a classic-country crooner, or a traditional lovesick ballad, there's a unique impression she leaves that lingers and is unlike anything you've heard before.
Roni Stoneman is a noted bluegrass banjo player and comedian widely known as a cast member on the country music show Hee Haw. She is the youngest daughter of Ernest V. "Pop" Stoneman, patriarch of the Stoneman Family, one of the most famous family groups in early country music, and a leading force behind orchestrating the 1927 Bristol Sessions.
Based in Johnson City, Tennessee, Bill and the Belles is known for combining a stringband format with their signature harmonies, candid songwriting, and pop sensibilities. Composed of Kris Truelsen on guitar, fiddler Kalia Yeagle, banjo/banjo-uke player Aidan Van Suetendael, and bassist Andrew Small, the group has a knack for saying sad things with a bit of an ironic smirk and revels in the in-between. Deeply engaged with the stringband tradition and eager to stretch those influences to a contemporary setting, the band's latest album Happy Again is full of life, humor, and tongue-in-cheek explorations of love and loss.
Hosted by Kris Truelsen, Farm and Fun Time is a re-imagining of the classic WCYB Radio program of the same name that aired in the 1940s and 1950s. Radio Bristol's Farm and Fun Time broadcasts live before a studio audience and recorded for television syndication on Blue Ridge PBS, East Tennessee PBS, and PBS North Carolina (check local listings). It can be accessed on 100.1 FM in the Bristol area, or online at ListenRadioBristol.org and on Radio Bristol's free mobile app. Viewers may also tune in to watch through Radio Bristol's Facebook and YouTube channels.
Supporting Acts: Lauren Morrow, Roni Stoneman, and Bill and the Belles