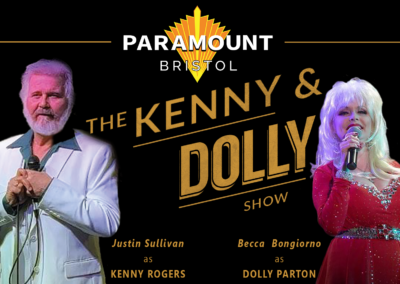 Doors 7:00 pm / Show 8:00 pm
$22 - $37 plus applicable taxes and fees / Members save at least $5 per ticket
Justin Sullivan grew up in Fairview outside Nashville, Tennessee. He comes from a musical family; in fact, his mother and her sisters performed years ago on the Junior Grand Ole Opry. While in junior high, Justin became involved with Southern Gospel music and has sung in several groups. Justin and his wife Janet were in the Bahamas years ago and went into a Kenny Rogers' Roasters restaurant in Nassau. His wife noticed that people there had stopped what they were doing and stared. When Janet looked around the restaurant, she saw a photo of Kenny Rogers and realized why the customers were looking at Justin so strangely. On a 70s Flower Power cruise he was asked to perform a Kenny Rogers number to an afternoon audience when it was discovered he could sing. Over the years, people continue to stop Justin and ask for his autograph or to take a photo with him. Justin was contacted by Adam Michaels from Hollywood's Avenue of the Stars who saw him perform on a Christmas show hosted by the Daystar program "In Your Corner". Adam remarked that he had been looking for Justin for months since he has an uncanny resemblance to Kenny Rogers. Justin has prepared a show with some of the best musicians Nashville has to offer, three of the band members have performed with country music legends and toured with Grand Ole Opry members.
Becca Bongiorno was born in Houston, Texas and grew up in western North Carolina, close to the Tennessee line. Music was always in her blood, especially with the influence of her Grandfather, a fiddler and pianist, who was also Professor of Music at Millersville University in Pennsylvania. She trained in piano and voice at an early age, and later in guitar. She enjoyed imitating musical artists vocal tones and sound. After graduation, she began touring all over the east coast and later in Central America, performing various musical shows and playing nightly shows in seven major music theaters in Myrtle Beach, SC. While in theater, her love for vocal imitation and cosmetology lead her to portray character roles like Marilyn Monroe, Olivia Newton John, Stevie Nicks and Anni-Frid Lyngstad (Frieda of ABBA), until landing "Dolly Parton" as her mainstay character in 2012, due to the incredible response from her audiences, as well as several similar features and natural characteristics she carries. Becca is one of the few Dolly Parton tribute artists who actually plays acoustic guitar on some songs, just as the real "Dolly" does. Presently, she portrays "Dolly Parton" for audiences mainly all over the eastern and mid-western regions of the US. She offers a spunky, funny, energetic version of the "Dolly" we all know and love!!"
Get your tickets now to see this awesome tribute show on the Paramount stage!
Doors open at 7PM. Our Box Office opens 2 hours before showtime. For shows not already sold out, tickets will be available at the door on the day of show for an additional cost of $5 (+tax and service fee). BUYER BEWARE! Third party tickets (StubHub, eTix, VividSeats, etc.) will NOT be honored. Tickets are available via paramountbristol.org or our Box Office ONLY. All sales are final. Refunds and exchanges are not permitted. Outside food and drinks are not allowed.