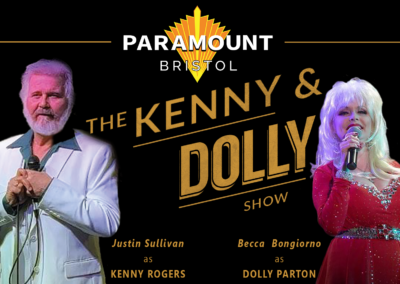 PARAMOUNT BRISTOL PRESENTS
Doors 7:00 pm / Show 8:00 pm
$22 - $37 plus applicable taxes and fees / Members save at least $5 per ticket
Justin Sullivan comes from a musical family; in fact his mother and her sisters performed years ago on the Junior Grand Ole Opry. Over the years he has composed gospel songs as "Conviction" and "He Was Thinking of Me" that are registered with BMI. "He Was Thinking of Me" was later recorded by a known Southern Gospel group. Justin finds that words and music seem to come together in the quietness of the early morning hours. Gospel music will always be his favorite to perform. The Kenny Rogers thing came about in a strange way. Justin and his wife Janet were in the Bahamas 10-15 years ago and were walking the streets of Nassau when they decided to go into a Kenny Rogers' Roasters restaurant. His wife noticed that the people there had stopped what they were doing and stared. It didn't take long before Justin was contacted by Adam Michaels from Hollywood's "Avenue of the Stars" who saw him perform on the Daystar program "In Your Corner". He called the producer of this program to obtain Justin's phone number and the rest is history!
Becca Bongiorno was born in Houston, Texas and grew up in western North Carolina, close to the Tennessee line. Music was always in her blood, especially with the influence of her Grandfather, a fiddler and pianist, who was also Professor of Music at Millersville University in Pennsylvania. She trained in piano and voice at an early age, and later in guitar. She enjoyed imitating musical artists vocal tones and sound. After graduation, she began touring all over the east coast and later in Central America, performing various musical shows and playing nightly shows in seven major music theaters in Myrtle Beach, SC. While in theater, her love for vocal imitation and cosmetology lead her to portray character roles like Marilyn Monroe, Olivia Newton John, Stevie Nicks and Anni-Frid Lyngstad (Frieda of ABBA), until landing "Dolly Parton" as her mainstay character in 2012, due to the incredible response from her audiences, as well as several similar features and natural characteristics she carries. Becca is one of the few Dolly Parton tribute artists who actually plays acoustic guitar on some songs, just as the real "Dolly" does. Presently, she portrays "Dolly Parton" for audiences mainly all over the eastern and mid-western regions of the US. She offers a spunky, funny, energetic version of the "Dolly" we all know and love!!"
Get your tickets now to see this awesome tribute show on the Paramount stage!